Ramah in the Rockies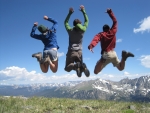 Ramah in the Rockies provides outstanding outdoor adventure opportunities that teach Jewish values and age appropriate leadership skills and influence the character development of youth. We do this through intense and intentional community building at base camp and on adventure trips.
---
Tags
---
This initiative hasn't posted anything yet.