Jacob's Lentil Stew MMMMM…..
Winter is around the corner. Along with it comes the relatively colder air (we are in Beersheba), and relative rain (again, Beersheba). Nonetheless, the winter plantings have begun. It is a fantastic time of year where the Earth somehow can tell; you are really craving a warm bowl of veggie soup. Of course there are all of the tubers and roots, like potatoes, carrots, radish , onions, and garlic. Then there are the leaves and stalk such as celery, parsley, and cilantro. Don't forget beans and lentils are also winter crop varieties.
The Torah is also in line with the natural rhythms of life including the seasons of the year. In the Parsha "Toldot", Esau and Jacob are born and grow up quickly, Esau being a hunter and Jacob a "dweller of tents". I think that in fact what the Torah means here is that he was a farmer. Jacob couldn't wander too far from his tents because he had to tend to his garden. It would be interesting to consult with Jacob on the ins and outs of his green thumb, how he prepared his compost, or when to plant and harvest.
When wondering how Jacob's home garden would look, we could be sure that he was growing lentils. We also know that they were red lentils because Esau asks to eat some of the "red porridge" that Jacob was preparing. That lentil soup must have been so tempting to Esau because he had just come back from a hunt, cold and tired. The stew must have smelled delicious because Esau sold his birthright for it. Maybe in the moment it may have been a good decision to warm his body, but soon after Esau came to despise his birthright.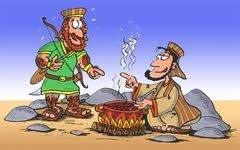 Biblical times and now aren't too different in terms of what is good to grow in the winter. In the Kalisher Garden, in Beersheba, the Ethiopian immigrants are just starting the winter planting season. We are anticipating this year's crop of lentils, many of them Ethiopian varieties, to make our own delicious and nutritious stews.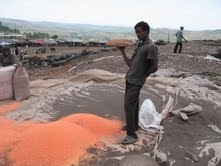 Lentils are great for the soil as a nitrogen-fixating crop, replenishing our soil after a long summer of corn. Lentils are also full of protein, which make you feel full and give your body energy to warm itself!
As it rains here in Beersheba, I am thinking about making my own lentil soup . . . Here is Moran's recipe.
Here is Moran's recipe for a delicious lentil soup:
Preparation time: 15 minutes.
Cooking time 1 hour
Onion 1
Tomatoes 2
Carrots 2
Sweet Potato 1
Celery 1 stalk
Red Lentils ½ Cup
Green Lentils 1 Cup
Salt and Pepper To Taste
Cumin One Teaspoon
Parsley or Cilantro To Taste
Olive Oil 3 tablespoons
Sautee chopped onion until golden, add chopped garlic. After 2 minutes add chopped tomatoes. After a few minutes add chopped carrot and sweet potato. Let the veggies cook and after another two minutes, add lentils. Fill the pot with water until the water is well over the top of the vegetables, while leaving space in the pot. Add the spices and stir. Cover the pot and let the soup cook for one hour on low flame.
(If you want to cut cooking time, you can soak the green lentils in lukewarm water for an hour.
---