Success on Wind Power in Maryland!
Last year, I got involved in a state level legislative campaign promoting wind power in Maryland. Working with our local Interfaith Power and Light, I had the opportunity to speak in support of this bill at a town hall meeting on November 3, 2011. (See the text of what I said here.) My local Silver Spring Sustainability Circle (Kayamut) also got involved, including sending a Tu b'Shevat card to our representative. Our efforts were successful in getting the bill passed through the Maryland House of Delegates last year, but the session ended without it becoming law.
I'm impatient about these things and so I was very frustrated when the campaign wasn't successful. But legislative results take time. I need to remember this, instead of expecting instant gratification. After all, a legislative campaign is not a twitter posting. It's a long-term proposition. I'm always encouraging people to take the long view when it comes to protecting the environment – and I need to remember to take the long view myself when it comes to the big results we're trying to make in the world.
Today, the wind power bill in Maryland became law. I feel so blessed to have been part of this effort – I think it's the first legislative success I've ever been part of, but I hope it won't be the last.
A huge thank you to Greater Washington Interfaith Power and Light (GWIPL) for helping organizing the Maryland religious community for this campaign. Thanks to your dedication and inspiration, my hope is renewed that making a real difference is possible.
Sometimes we get to play a role in the big fights, and it turns out that sometimes – sometimes! – we win!
See the great thank you card that GWIPL created for the religious leaders who took part in this effort: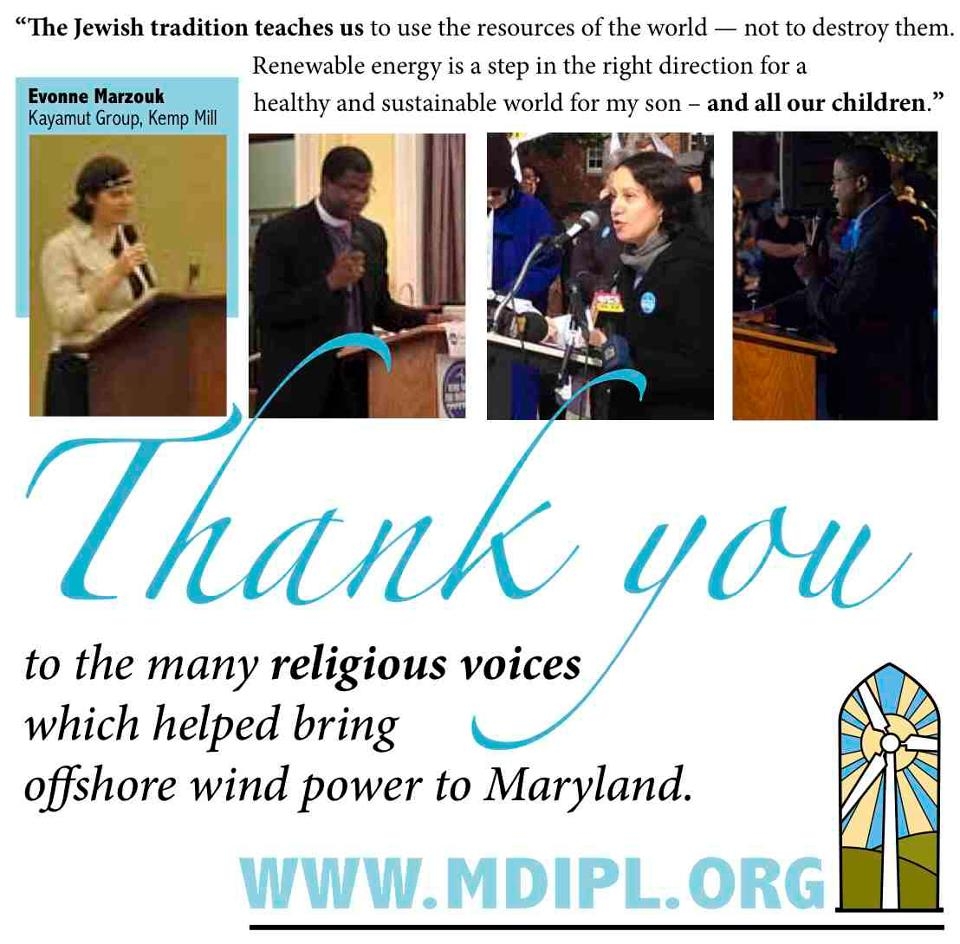 ---