The Youth Climate Weekend – Thursday, July 19 – Saturday, July 21
WE LOBBY – JULY 19
Zero Hour is not mobilizing just for the sake of mobilizing. We, the youth, are demanding an end to business as usual on climate change, so we have created science-backed demands for both our leaders, and the general public to take action on. On July 19th youth are taking over Capitol Hill to deliver our demands to our politicians. We are giving them the exact asks that we are marching for—so they have no excuse not to take action.
ART BUILDS & COMMUNITY BUILDING – JULY 20
We will prepare for our mobilization by having art builds around the DC area to celebrate our movement and earth through art. In any movement, it is important to have community building, because community is the best antidote to hopelessness. Through these art builds we are building our community and beautiful banners and signs for The Youth Climate March.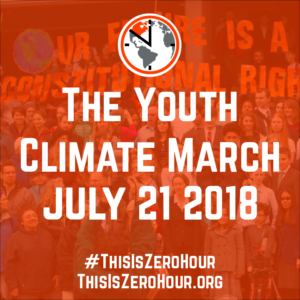 WE MARCH – JULY 21
In Washington D.C., youth will march on the National Mall to advocate for their own rights to a safe and livable future. We will rally and highlight the voices and stories of youth on the frontlines of the climate crisis. Then, we will flood the streets as a demonstration of youth power and show how #ThisIsZeroHour to act on climate change.
FOR MORE INFORMATION AND TO RSVP FOR EVENTS:
http://thisiszerohour.org/the-march/
---