Earth Etude for Elul 28: Dying. Birthing.
by Rabbi Robin Damsky
~ Burning. I am consumed by the burning. I lived in Santa Barbara and other parts of California for about 20 years. I remember the Painted Cave Fire in 1991 that started on "The Pass" – the way we Santa Barbarans referred to the San Marcos Pass that led up into Los Padres National Forest. Santa Barbara is typically a dry, high chaparral, but in the last three plus decades it has faced many years-long running droughts. Lack of water led to restrictions in watering lawns, bathing and flushing toilets. "If it's yellow, leave it mellow, if it's brown, flush it down," was a slogan in many a restroom. Drought of this kind leads to fire.
We are reading now in the news and talking with loved ones whose bags are packed, those who've already been evacuated, those who lost homes, those whose lives were taken. In California, in Oregon, in Washington, in Colorado, in New Mexico.
Too many fires. I remember that the Painted Cave fire did something unusual in its day – it jumped the six lanes of the 101 Freeway. That had formerly been unheard of. Now the power of that kind of fire is overshadowed by fire tornados and millions of acres being burned to the ground.
I've lived through earthquakes – a couple of bad ones, and hurricanes, blizzards and more than one polar vortex. Yet nothing scores my heart the way that seeing fire take down the Creator's trees does, seeing wildlife scamper for shelter and struggle for food in the aftermath. To see and smell the ash that lingers over everything, forming a carpet of grey inside and out, in one's lungs and over the earth. The blackness of trees – now twigs – charred to the ground, and the earth that sprouted them baked to a crisp. It is the most pain I have experienced from natural disaster.
It just seems a time to grieve. There are writings on prevention and controlled burns. Things that we can do – could have done. So much prevention is yet in our hands while leaders are willing to wrest the last drop of beauty and life from our planet for the sake of their pockets.
The earth cries.
I can never find my way to wholeness around this loss. It has torn a hole in my heart. When the earth sprouts again, reminding me of her vitality and her fierce will to bring forth life, I cry the sob that has been held within. And I hope for greener tomorrows.
As I write, my daughter texts me: "There is a snake out front. By the trash." I join her outside as we watch a young copperhead sit in the road. Watching us, watching her. "What should I do?" my daughter asks. "Walk slowly and around, just give her space. She's probably as afraid of you as you could be of her."
We watched, took a few photos and videos in the growing dark. I told her that this is the season for hatching new copperhead babies.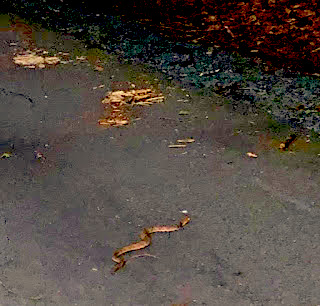 I always feel blessed when wildlife reveals itself to me. It is a holy gift.
Perhaps this is the fuel of renewal.
© Rabbi Robin Damsky
Robin Damsky is the founder and executive director of In the Gardens: http://inthegardens.org. She brings organic, permaculture garden design, mindfulness, meditation and movement to communities and individuals to cultivate spirit, mitigate hunger, support our planet, and to nourish healthy relationships with self and others. She serves part time as the rabbi of Temple Israel in Gary, IN, and lives in Chapel Hill, NC.
---