Strike for the Climate, Albany NY: Friday Sept. 20th, 11 am – 2 pm
September 20, 2019 @ 11:00 am

-

2:00 pm

EDT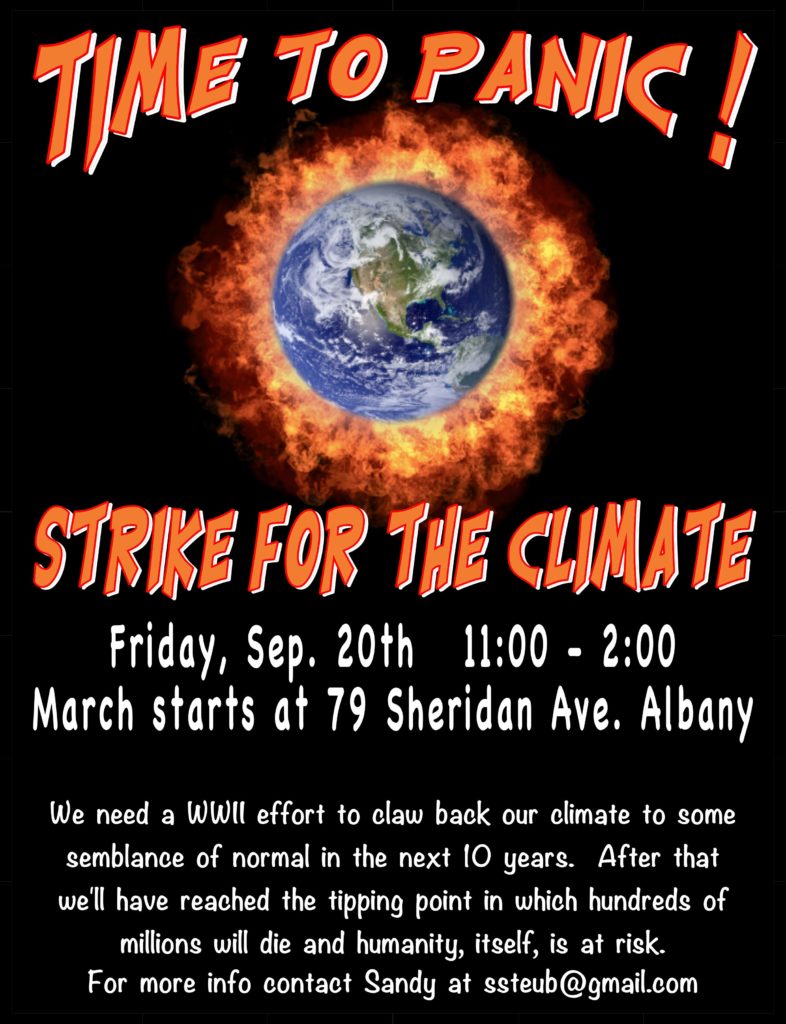 The People of Albany United for Safe Energy (PAUSE) are joining with the students from local high schools and colleges to hold a march and rally. Our specific purpose is to call upon Governor Cuomo to enact aggressive measures that can lead the nation and the world in lowering our greenhouse gas emissions (GHG) to a safe level. The United Nations Intergovernmental Panel on Climate Change (IPCC) reports that we have until 2030 to lower GHG by 45% from the 2010 level. Every report the IPCC puts out is cautiously moderate and needs to be replaced by more dire predictions in their next report. Therefore, we probably have less than 10 years to claw back our climate to a safe level before it reaches the tipping point in which hundreds of millions die and humanity, itself, is at risk.
In 2018 both the US and global GHG increased. The New York Times 12/5/18 headline reads "Greenhouse Gas Emissions Accelerate Like a 'Speeding Freight Train'" in 2018.
PAUSE and other groups will request that Governor Cuomo declare New York in a state of climate emergency in which he promises to do the following:
1) Immediate ban on all new fossil fuel projects
2) Immediate halt to all subsidies for fossil fuels from NYS
3) Increase funding from $7-10 billion for renewable projects in the 2020-21 budget–40% of such funding will target disadvantaged communities.
4) Convert all public buildings and vehicles to zero Greenhouse Gas (GHG) emissions by 2023
5) Amend building codes to require all new buildings be carbon emission free by 2023