Jewish Greening Fellowship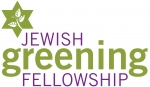 The Jewish Greening Fellowship's mission is to mobilize a Jewish community response to climate change. We work with Jewish organizations in the UJA-Federation of New York's catchment area of the 5 boroughs of New York City, Westchester and Long Island.
---
Tags
---
Originally posted in the newsletter of the Jewish Greening Fellowship What was Queen Esther thinking when her uncle Mordechai told her to speak up to King Achashverosh? Many readers of the Purim story have tried to answer this question with midrash (stories written to fill gaps in Torah texts.) One intriguing story claims that Esther hid ...
---